Heater Installation in Corona, CA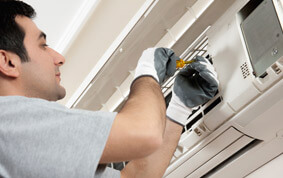 When your heating setup dies after years of usage, you'd certainly like to have the replacement Heater Installation in Corona, CA done fairly quickly, especially if the breakdown or death happens during summer. However, we believe you should not hurry up with the process and look into the positives of picking up a high-efficiency, much capable heater, instead of buying an inexpensive option. A high-efficiency heat pump, furnace, or hydronic setup could last longer, eat up little energy, and translate into increased savings over a time period.
Save Money With A New Heater
If your high-efficiency heater stays in good working condition throughout its lifetime, you'd end up saving quite a lot and also recover the premium amount you paid when buying the system. Modern efficient heaters could help the homeowner potentially save hundreds of dollars every year, especially if you're replacing a decades-old system. Having used the system for long, the total ownership cost would make amends for the Heater Installation in Corona, CA price.
Choosing a Heating Unit
The heater you pick mustn't be too small or large for your area, as under- or over-usage can hamper the equipment's life and performance. If you're not sure about the perfect size, get a contractor on-board to help make the choice.
Early Replacement if Possible
We recommend you don't wait for the old heating system to get a replacement heater set up. If you've used the machine for a good amount of time, and you can foresee the system dying on you, get the replacement done immediately. Consequentially, you'll not be pushing the old system to its brink or putting excessive load on it, which could inflate your energy bills. Moreover, when you decide the replacement much early, you've got sufficient time to decide on your new system purchase.
Looking for Heater Installation in Corona, CA and the Surrounding Areas? Contact us today!