AC Maintenance in Corona, CA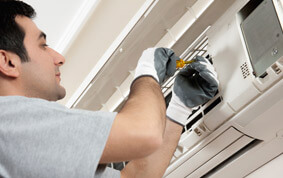 Any HVAC system is an investment, but when you fail to properly maintain that unit, it will not function properly forever. An HVAC system that is properly maintained will give you a lot more than you ever imagined. Here are a few reasons why AC Maintenance in Corona, CA is important.
Lower Monthly AC Bills
No one enjoys getting high utility bills in the mail and if you run proper AC Maintenance on your system, you can lower those bills. When the unit runs efficiently as well as effectively, you will end up paying less. An AC unit will not only cool the air, but it will also keep the air healthy and clean. If the unit is not cleaned and maintained, it is a breeding ground for bacteria, which then is released into the air.
Proper AC Maintenance Ensures Effective Functioning
The better you maintain your AC, the longer the unit will last. You want it to function effectively and efficiently for as long as possible and that means running the proper maintenance on it. Well maintained AC units run more efficiently and use less energy. They also see less wear and tear over the years and break down less often.
Less Expensive Air Conditioning Repairs
When you maintain your AC, you will not have nearly as many repairs to do. You will notice small things as they arise and fix them before they become a big deal. There are certain things you need to do to your air conditioner in order to keep the warranties intact. If a part breaks down, it might not be under warranty if you are not maintaining the unit.
Have questions?  Submit a request through our online request form or give us a call and our specialist will help guide you through the different AC Maintenance options.